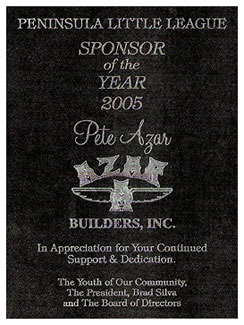 Azar Builders has sponsored fourteen different little league baseball teams over the past seven years in the Peninsula Little League in Ocean Beach.
Azar Builders has also contributed to the Little League by providing the scoreboards at the playing fields, and the bullpens and pitcher's mounds. With these facilities, the youngsters should improve their game for many years to come.
Azar Builders has also sponsored both the Point Loma Little League over the years, and continues to support Coastal Triton football. Azar Builders also supports the Point Loma High School Basball Team.
Image Gallery
See Azar Builders working on some local Baseball Fields